Beats For Peace: 
NYC's Technicolor Lenses Performs Groundbreaking "Eyes in the Sky"
for I.D.P. Dignitaries (9/18) and at Central Park Concert (9/21) 
TL lyricist Jackson Whalan makes his second performance at the U.N. headquarters
in celebration of the International Day Of Peace
NEW YORK, N.Y. (Sept. 17, 2013) – For a generation of youth raised in a culture of war, messages of peace are few and farbetween. But a talented, creative band from Brooklyn, Technicolor Lenses, will prove that conscious hip-hop/electronic music is alive and well on Sept. 18, with a power-driven message of hope and reconciliation before an audience of U.N. dignitaries and the Annual U.N. Annual Youth Conference.
Technicolor Lenses performs again in Central Park on Sept. 21 as part of the Vigil for International Peace and Ecology.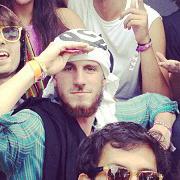 This performance of "Eyes in the Sky," part of the band's extensive repertoire of forward-thinking music, culminates an ambitious production project funded by the Eugene Lang Opportunity Award received by resident MC Jackson Whalan, a recent Lang graduate. It's his second Day of Peace hip-hop performance at the U.N.: in 2008, he performed "Peace Vybration" before the Youth Conference and a panel of dignitaries including Jane Goodall, Elie Wiesel, Michael Douglas and others.
"Music is a unifying language, a vehicle for creating peace, and like so many others in my generation, we have grown up surrounded by the imagery and language of war – we are unsure of a world without dark clouds of conflict," said Whalan, also a youth delegate to the United Nations. "Our music breaks out of these confines and delivers universal hope, and the Day of Peace is the place for our message."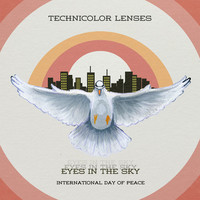 "Eyes in the Sky" is a high-energy, bilingual, electronic hip-hop single by Technicolor Lenses, written, recorded and produced to elevate awareness about the United Nations International Day of Peace, a day of global ceasefire, observed around the world Sept. 21.
Whalan has been writing, producing and performing his own hip-hop for more than 10 years and most recently with Technicolor Lenses; the band is gaining traction in the NYC bass community playing venues such as The Paperbox, Sullivan Hall and Glasslands Gallery, in addition to underground warehouse events.
Hear "Eyes in the Sky"
Visit Technicolor Lenses
Follow on Twitter
 Media: Ellen G. Lahr | EGLahr Communications | [email protected] | @EGLahrComm | 413.329.3256
Posted on September 17, 2013