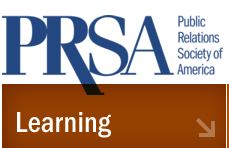 There's nothing like a great little webinar to grease the gears of business. Today's PRSA event, "The Eight Most Common Mistakes Communicators Can't Help But Make," gave some high-level takeaways for working with executives. EGLahrComm get some reminders to:
Say no to the "drive-by" PR job. This is when an exec rushes past and asks you to "dash off a press release" or business message about XYZ. XYZ requires the exec's perspective, thoughts, voice and input, so encourage a slow-down, sit-down, and get the low-down.
Ask broad and directed questions to understand messaging, goals, audience and voice. Listen, listen, listen. Repeat what you heard: "So what you're saying is…." Sort of like in a marriage.
Talk/write/speak in the language of the client — but this means learning and translating the language of the client and the company culture.
Provide options and choices for the client — there's rarely a one-size strategy.
Establish check-points during the progress of a project, to maintain communication, recalibrate goals and objectives and learn of crucial updates.
For clients resistant to truth-telling, bring in some facts and data, develop alternatives to "no comment" and find a path to transparency that works for everyone.
Ensure access to information and people; info and people are at the core of what PR people do. Identify potential roadblocks and negotiate if necessary.
These principles would seem vital to just about any professional, but nice to have a periodic refresher.
Posted on August 27, 2013