We've all heard it: Using video to enhance outreach and engagement will boost response to our press releases, marketing e-blasts, social media and other outreach. Adding a video or photo instantly brings your outreach to yet another level — whether as part of a press release, e-blast, blog post, social media share, or other direct-connect.
Real estate broker Audrey Schoenfeld discovered the punch of video while working on a new website with EGLahr PR & Media. She wanted her website to showcase a particularly stunning listing — a rolling estate bordering the Berkshires and New York's Hudson Valley. She already had the photos for the typical real estate slide show, but Audrey wanted to add more: moving images and music would set the tone, look and feel for this unusual high-end property, which cried out for an extra layer of class and style.
EGLahr PR & Media teamed up with Greylock Productions to develop just what Audrey needed for her listing. Take a look, and see how a certain type of unique property can benefit from including music and video.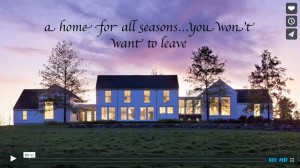 You can also visit AudreyGSchoenfeldRealEstate.com to check out her new website.